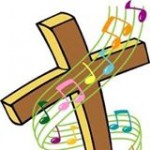 Follow us on Facebook
We are a group of people that share a desire to sing and play music for Mass and other Church services in St Mary's Church, Bellaghy.
Our mission is to create a harmonious atmosphere for parishoners to worship, reflect & celebrate their faith.
We enjoy playing Catholic/Christian music of various styles and age in the parish of Bellaghy-Ballyscullion.
We aim to sing and play a mixture of both reflective and joyful contempory pieces which can enhance liturgical celebrations, spiritual reflection and help build community spirit.
We currently sing one Sunday in each month at 11am Mass.
Membership is open to singers and instrumentalists with a 'good ear' for music and the ability to blend with other voices and instruments and most importantly a heart for enhancing the liturgy.
To join, private message us or come along and meet us after Mass. We encourage congregational participation in the singing at Mass